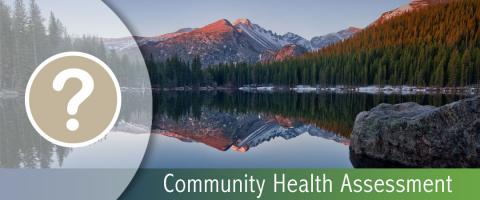 What is the Community Health Survey
Beginning in 1995, the Health District has collected information every three years about the health-care needs of our community through the Community Health Survey. The survey asks about access to care, physical health, mental health, and other health topics.
The Community Health Survey is sent to a randomly selected group of adult residents in Larimer County. Answers to the Community Health Survey are completely confidential. We study and report only on the results as a whole, and keep no personally identifying information on individuals who take the survey.
How does the survey work?
The survey is sent to randomly selected addresses in Larimer County. In 2022, about 13,000 households received a survey invitation in the mail.
One person from each household completes the survey online or through a paper form.
Individual responses to the survey are completely confidential and secure.

The Health District uses statistical methods to analyze the data.
The data is now ready to be shared with the community!
The Health District Research & Evaluation Team is committed to adhering to the American Association for Public Opinion Research Code of Professional Ethics and Practices in our survey research.
Want to learn more?
If you would like a copy of the 2022 survey questionnaire, contact us at survey@healthdistrict.org.
We welcome questions and comments. Please contact Sue Hewitt, Evaluation Coordinator, for more information about the Community Health Assessment.
Email: shewitt@healthdistrict.org
Phone: 970-224-5209