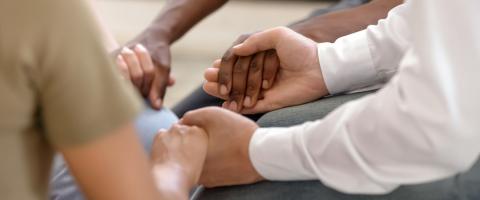 Connections - Adult Services
We are available to help with emotional health or substance use concerns you may have. If you need someone to talk to, call us at 970-221-5551.
We're still here to help during COVID-19
Are you feeling overwhelmed by current events? As the non-crisis COVID-19 emotional support line for Larimer County, we're here to listen. We are currently taking some in-person office appointments, in addition to telehealth appointments. COVID support services are available at no charge. We're also still available to help with other mental health or substance use concerns you may have.
If you need someone to talk to, call us at 970-221-5551, 7 days a week.
If you are in crisis, please call SummitStone Crisis LIne, 970-494-4200; Colorado Crisis Services, 1-844-493-8255 (or text "TALK" to 38255), or call 911.
Depression. Anxiety. Drug and alcohol issues.
When you or someone you care about is struggling with any kind of mental health or substance use concern, it's hard to know where to turn for help.
If you have been seeking mental health services "near me," Connections can offer answers, options and support that help you take the next step—the right step—toward mental health and freedom from substance misuse or addiction.
Answers
Connections can help identify your concerns and personally guide you to appropriate options, including support, further assessment and treatment. It all starts with a phone call or video conference with one of our specialists, who can give you:
Free information to help answer your questions and explore your concerns about mental health, substance use or behavioral issues
Initial screening and assessment services to help pinpoint specific issues or problems and determine the best course of action
Information on symptoms for depression and other emotional health concerns
Options
Once we've identified your needs, we'll help connect you, as needed and appropriate, to:
More in-depth assessments to determine your specific needs
Local counselors and therapists
Affordable counseing services and medication services, as available, for those wo meet income guidelines
Other treatment providers and programs
Psychiatric and psychological services
Classes, support groups and other resources
Connections does not provide ongoing, long-term treatment. However, we may provide assessment and treatment on a short-term basis until an ongoing source of care is found.  We'll continue to offer support, information, care coordination and help with overcoming barriers to care for as long as needed.
Support
Our staff understands what you're going through. They'll listen to your concerns and walk with you every step of the way as you get connected to the right care. Services include:
Help navigating the complex system of care, and help connecting to treatment, resources and support
Serving as a go-between and advocate as you work with care providers and other community resources
Support and guidance from our Family Support Partner
Education
Connections offers a variety of trainings to professionals and community to help increase awareness and understanding of mental health and substance use issues. These include ongoing Mental Health First Aid Trainings. See upcoming classes, trainings, and talks.

Services for families and youth - The CAYAC Team
CAYAC (Child, Adolescent and Young Adult Connections) is a partnership of the Health District of Northern Larimer County, SummitStone Health Partners, Poudre School District and other community partners. Our goal is the early identification and treatment of mental health and substance use disorders that affect health, happiness, family and school. Services are open to all Larimer County youth up to age 24, as well as their families. Others who work with youth (teachers, coaches, daycare providers) can also get support and information from CAYAC.
Our team
Connections has a diverse group of trained mental health specialists to help with your specific needs.
What is behavioral health?
You may have heard the term and are wondering what is behavioral health. Behavioral health is the study of the emotions, behaviors and biology relating to a person's mental well-being and their ability to function in every day life. It encompasses more than just mental health and sometimes is used to describe health care dealing with mental health and substance use issues.
Fees
We try to remove barriers to care, including cost. Some services are free, and some are available with sliding fees. Some client assistance is available for those who qualify.
If you are in crisis
Connections does not provide crisis services. We are not a replacement for emergency services, urgent care or primary care. If you are experiencing a crisis, visit or call the SummitStone Health Partner Crisis Center (1217 Riverside Ave., Fort Collins; 970-494-4200), or go to your nearest emergency room. Or call 1-844-493-TALK (8255) or 911.