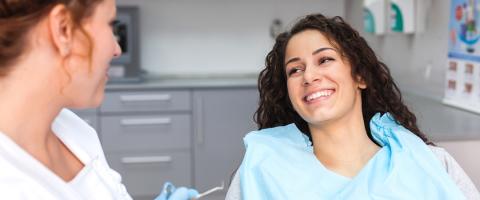 202 Bristlecone Drive
Fort Collins, CO 80524
970-416-5331
Monday - Thursday, 7:30 a.m. – 6 p.m.
Friday, 8 a.m. - 5 p.m.
Appointments are required except for emergencies.
The Health District Family Dental Clinic is a friendly, modern and comprehensive dental clinic in north Fort Collins. We provide free and low-cost dental services to adults and children who have trouble affording care. If you have been putting off going to the dentist because of cost, we may have an option for you.
Who is eligible for care at the Family Dental Clinic?
The Family Dental Clinic serves residents of the Health District (northern Larimer County) who: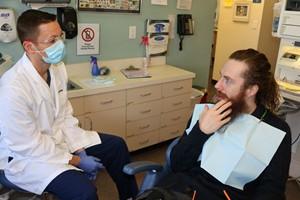 Meet financial guidelines, and
Have no insurance or are covered by Health First Colorado (Colorado's Medicaid Program), Child Health Plan Plus (CHP+) insurance, or the Colorado Senior Dental Program.
We have many options for helping people who are unable to afford dental care. We accept Medicaid and CHP+. We also have low sliding fees for those who qualify. You still may qualify for low-cost dental care on a sliding fee scale even if you are not eligible for other programs such as Health First Colorado (Medicaid) or food stamps.
Our services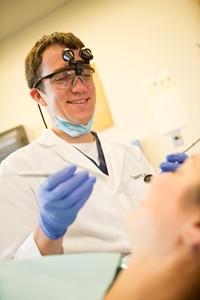 Dental cleanings
Full dentures
Partial dentures
Root canals
Silver fillings
Tooth-colored fillings
We do not provide orthodontic care.
It's important to us that patients are happy with their mouth and smile. That means relieving tooth pain, repairing broken teeth, and providing good preventive care. A dentist determines the most appropriate care for each patient.
Making an appointment
Appointments are required. There is usually no wait for an appointment, and we can see most patients quickly.
If you are a new or returning patient who wants to make an appointment for routine care such as a checkup and cleaning, please call the Family Dental Clinic at 970-416-5331, 7:30 a.m. to 6 p.m., Monday–Thursday, 8 a.m.-5 p.m., Friday.
We need to determine eligibility for all new patients. Call for more information or to set up an appointment.
Emergency appointments
A limited number of emergency appointments are available each day. If you have a dental emergency, please call the Family Dental Clinic at 970-416-5331, 7:30 a.m. to 6 p.m., Monday–Thursday, 8 a.m.-5 p.m., Friday.
Our clinic
The Family Dental Clinic is located at 202 Bristlecone Drive in north Fort Collins, next door to the Health District main offices and near the Larimer County Department of Human Services and Larimer County Department of Health and Environment. Click here for a map.