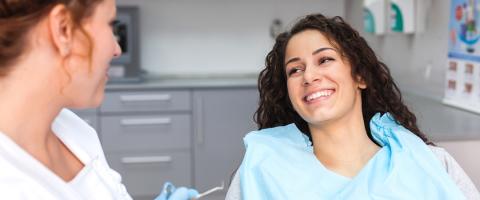 202 Bristlecone Drive
Fort Collins, CO 80524
970-416-5331
IMPORTANT NOTICE
Beginning Wednesday, March 18, the Health District Family Dental Clinic will only see patients who have a dental emergency. This will allow us to best protect the health and safety of patients, staff, and vulnerable community members, while still helping those who need care the most. This change remains in effect until further notice.
If you have a dental emergency (pain, swelling, bleeding) that requires immediate treatment by a dentist, and do not have fever or respiratory symptoms*, please call the clinic, Monday-Friday, 8 a.m. – 4 p.m., to schedule an appointment. (Respiratory symptoms from asthma or chronic lung disease are an exception.)
Thank you for your understanding. We hope that we can get back to serving all of your dental needs as soon as possible.
*Respiratory symptoms:
Runny Nose
Cough
Sore throat
Shortness of breath/difficulty breathing

Can't afford dental care?
Are you putting off going to the dentist because of cost? Have you been looking for an affordable dental clinic? The Health District may be able to help.
The Health District Family Dental Clinic in Fort Collins provides quality free and low-cost dental care to people in northern Larimer County who do not have dental insurance. We take Medicaid and CHP+. And we offer low sliding fees to those who qualify. Affordable dental insurance for seniors may also be available.
We have been making people smile for almost 20 years. If you have been avoiding the dentist, please call us today and see if we can help you!
Our services
Dental exams & checkups
Cleanings
Children's dentistry
Fillings
Crown & bridges
Dental emergencies
Root canalsTooth extractions
Affordable dentures (full & partial)
Implant crowns
We make it easy
Easy scheduling. No long waits.
Longer hours for convenient appointment times
Same day appointments may be available
Plenty of parking
Emergency walk-ins welcome
The Family Dental Clinic is just north of Old Town. Click here for a map.

Become a new patient
It can be stressful figuring out how to pay for dental care. We take the worry out of it.
Call 970-416-5331 and ask to speak with an eligibility specialist. You will come to our office and meet with an eligibility specialist. They will go over your income and payment options. This appointment lasts 30-60 minutes. If you qualify, you can usually see a dentist that same week.
Already a  patient?
If you are already a patient, please call us to make or change an appointment.
Emergency appointments
If you have a medical emergency, please call 911. If you have a dental emergency, call us at 970-416-5331. We may be able to see you the same day.