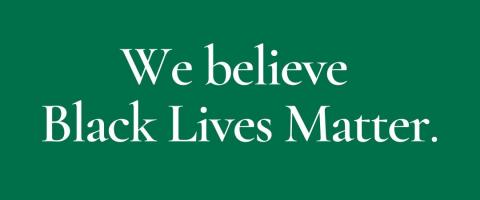 Health District Statement on Racism
The Health District believes Black Lives Matter and is committed to listening, learning, and acting in ways that are anti-racist, to support and encourage change within and beyond our organization.
No one should die due to the color of their skin. Racism is a public health crisis in our country. We continue to witness the impact of racial disparities across systems.  Currently, very visible examples are the inequity and violence in the criminal justice system, and health disparities that create higher health risks from the COVID-19 pandemic.  But there is more.  It is important to listen carefully to learn about, and truly understand, its pervasiveness.  Many institutions, from criminal justice systems, schools, housing, health care, financial industries, governments, and our organization – have perpetuated it, knowingly or unknowingly, and it is time to take action to change it.  The impacts of systemic racism are undeniable. Black Americans are dying at disproportionate rates.
"Our mission is to enhance the health of our community and we cannot ignore that racism disproportionately leads to poor health and death of Black people. At this pivotal moment, we are listening, learning, and holding space for the voices that must be heard. We stand in solidarity with Black, Indigenous, and People of Color within our community and across the nation. We recognize and are committed to doing our part to help address the racism that is so ingrained and historically ignored in our society." - Carol Plock, Executive Director
To enhance the health of our community, we must recognize the additional risks and burdens that Black, Indigenous, and People of Color face due to racism and systemic oppression. We know, as an organization, a community, a state, and as a nation, that we have work to do.
As a public entity, as an employer, as a health services provider, and as a member of the northern Colorado community, we pledge to take the following actionable steps to help dismantle systemic racism:
WE WILL LISTEN to the voices of Black, Indigenous, and People of Color among our staff, clients, across our community, and throughout the nation.

WE WILL LEARN and are committed to fostering growth within our organization through staff training, educational opportunities, and community discussions.
WE WILL ACT by assessing and improving our systems, services, and policies to ensure Black, Indigenous, and People of Color are valued, heard, and ensured access to those health services that our organization can provide, as well as referrals to those that we cannot provide.
WE WILL DO BETTER by standing against racism and for equity within our organization, across our services, through collaborations in our community, and in policy advocacy.
El Health District cree que Las Vidas Negras Importan y está comprometido a escuchar, aprender y actuar de manera antirracista, para apoyar y alentar el cambio dentro y fuera de nuestra organización.
Nadie debe morir por el color de su piel. El racismo es una crisis de salud pública en nuestro país. Seguimos presenciando el impacto de las disparidades raciales en todos los sistemas. Actualmente, ejemplos muy visibles son la inequidad y la violencia en el sistema de justicia penal, y las disparidades de salud que crean mayores riesgos debido a la pandemia de COVID-19. Pero hay más. Es importante escuchar con atención para conocer y realmente comprender su omnipresencia. Muchas instituciones, desde sistemas de justicia penal, escuelas, vivienda, atención médica, industrias financieras, gobiernos y nuestra organización, lo han perpetuado a sabiendas o sin saberlo, y es hora de tomar medidas para cambiarlo. Los impactos del racismo sistémico son innegables. Los negros americanos están muriendo a tasas desproporcionadas.
"Nuestra misión es mejorar la salud de nuestra comunidad y no podemos ignorar que el racismo conduce desproporcionadamente a la salud pobre y la muerte de los negros. En este momento crucial, estamos escuchando, aprendiendo y manteniendo espacio para las voces que deben escucharse. Nos solidarizamos con los negros, indígenas y personas de color dentro de nuestra comunidad y en todo el país. Reconocemos y estamos comprometidos a hacer nuestra parte para ayudar a abordar el racismo que está tan arraigado e históricamente ignorado en nuestra sociedad." – Carol Plock, directora ejecutiva
Para mejorar la salud de nuestra comunidad, debemos reconocer los riesgos y las cargas adicionales que enfrentan los negros, indígenas y las personas de color debido al racismo y la opresión sistémica. Sabemos, como organización, comunidad, estado y nación, que tenemos trabajo que hacer.
Como entidad pública, como empleador, como proveedor de servicios de salud y como miembro de la comunidad del norte de Colorado, nos comprometemos a tomar las siguientes medidas prácticas para ayudar a desmantelar el racismo sistémico:
ESCUCHAREMOS las voces de los negros, indígenas y personas de color entre nuestro personal, clientes, en toda nuestra comunidad y en todo el país.

APRENDEREMOS y estamos comprometidos a fomentar el crecimiento dentro de nuestra organización a través de capacitación del personal, oportunidades educativas y discusiones comunitarios.
ACTUAREMOS evaluando y mejorando nuestros sistemas, servicios y políticas para asegurar que los negros, indígenas y las personas de color sean valorados, escuchados y asegurados el acceso a los servicios de salud que nuestra organización puede proporcionar y referencias a aquellos servicios que no podemos proporcionar.
 
MEJORAREMOS al oponernos al racismo y la equidad dentro de nuestra organización, a través de nuestros servicios, a través de colaboraciones en nuestra comunidad y en la incidencia política.