Cholesterol & Blood Pressure Testing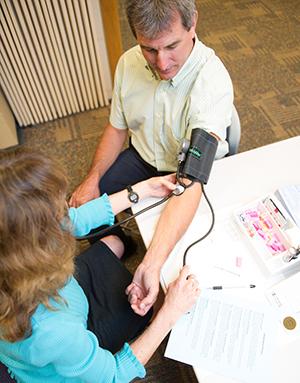 Want to lower your risk for heart disease and diabetes? Start by finding out your blood pressure and cholesterol numbers and understanding what they mean at one of our convenient community screenings.
Adults should be tested every three to five years or more, depending on risk.
About our test
Our cholesterol test uses state-of-the-art equipment and requires only a simple finger-stick blood sample for immediate, accurate results.
Results for total cholesterol, HDL, LDL, triglycerides, blood glucose and blood pressure are available within 20 minutes. A registered nurse will explain your results and offer health information. Ask our registered nurses questions about your heart-disease risk and discuss steps for leading a heart-healthy life.
An 8-hour fast is required for best results. Medications are permitted. Drinking water is encouraged.
Cost
If you are a Health District resident your first cholesterol test is free. Cost for all others is $15. Sliding fees are available for qualifying individuals.
Appointments are strongly recommended. To make an appointment or for more information or additional screening locations, call 970-224-5209. If time allows, we will serve those without an appointment.
Blood pressure checks are free and no appointment is necessary. Free, walk-in blood-pressure reading and consultation with a registered nurse is also available on the second Monday of each month, 10 a.m. to 12
p.m., at the Fort Collins Senior Center, 1200 Raintree Drive. Consultations take 5-10 minutes.
Forms you will need
To save time, please download and fill out these forms and bring them to your appoinment.