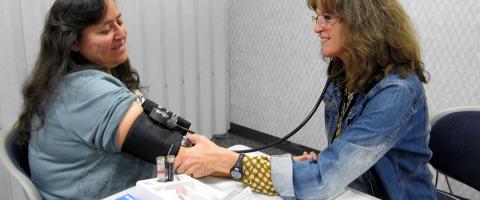 Cholesterol & Blood Pressure Testing
Want to lower your risk for heart disease and diabetes? Start by finding out your blood pressure and cholesterol numbers and understanding what they mean at one of our convenient community screenings.
Adults should be tested every three to five years or more, depending on risk.
About our test
Our cholesterol test uses state-of-the-art equipment and requires only a simple finger-stick blood sample for immediate, accurate results.
Results for total cholesterol, HDL, LDL, triglycerides, blood glucose and blood pressure are available within 25 minutes. A registered nurse will explain your results and offer health information. Ask our registered nurses questions about your heart-disease risk and discuss steps for leading a heart-healthy life.
An 8-hour fast is required for best results. Medications are permitted. Drinking water is encouraged.
Cost
If you are a Health District resident your first cholesterol test is free. Cost for all others is $15. Sliding fees are available for qualifying individuals. The Health District boundaries include Fort Collins, Laporte, Wellington, Red Feather Lakes, Livermore, Bellvue and Timnath.
Appointments are required. To make an appointment or for more information or additional screening locations, call 970-224-5209.
Forms you will need
To save time, please download and fill out this form and bring it to your appoinment.
Upcoming Cholesterol Testing Clinics
All clinics are from 8:00 – 10:30 a.m. unless otherwise noted.
---------------------------------------------------
Tuesday, July 2 / Senior Center / 1200 Raintree
Tuesday, July 18 / Senior Center / 1200 Raintree
---------------------------------------------------
Thursday, August 1 / Spirit of Joy / Harmony and Lemay
Thursday, August 8 / Health District / 120 Bristlecone
Thursday, August 15 / Senior Center / 1200 Raintree
Tuesday, August 20 / Senior Center / 1200 Raintree
FREE Blood Pressure Checks at the Senior Center
Blood pressure checks are offered the second Monday of each month from 10:00 a.m. to 12:00 p.m. at the Fort Collins Senior Center, 1200 Raintree Drive, Fort Collins.
Free, 5-10 minute walk-in blood pressure reading and consultation with a registered nurse. The 5-10 minute consultation includes discussion and materials on how to keep your blood pressure where it needs to be, how to lower your risk for heart attack and stroke, and follow-up suggestions.
Upcoming blood pressure checks:
July 8
August 12
September 9
October 14
November 11
December 9