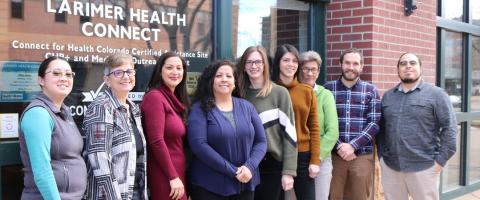 Larimer Health Connect
144 N. Mason Street, Unit 7
Fort Collins, CO 80524
970-472-0444
The Larimer Health Connect office is temporarily closed to walk-ins until further notice due to COVID-19. We are still available to help with your health coverage needs and are providing our services by phone. In-person appointments are available for those without access to a computer or the internet. Please call 970-472-0444 to schedule an appointment. We apologize for any inconvenience. Thank you.
Larimer Health Connect is a local effort to help individuals, families and small businesses in our community understand and participate in new health insurance coverage options, including Connect for Health Colorado.This effort is led by the Health District of Northern Larimer County, a Connect for Health Colorado Certified Assistance Site that also has many years of experience helping local residents enroll in Health First Colorado (Medicaid) and Child Health Plan Plus (CHP+). In cooperation with other local organizations, the Health District provides in-person assistance at five locations in Larimer County. Certified Health Coverage Guides with Larimer Health Connect can:
Provide fair and impartial information and services that help customers complete the application process to purchase health insurance through Connect for Health Colorado. They also educate customers on how to prioritize, filter and sort their options to meet their unique needs.
 
Help people get a break on costs by going over the financial assistance options that are available exclusively through Connect for Health, including tax credits and cost-sharing programs. They also can determine if individuals and families qualify for health insurance coverage from Health First Colorado (Medicaid) or CHP+ and help them apply for those programs if they do.
Visit the Larimer Health Connect website for more information.
To make an appointment with a Health Coverage Guide, call 970-472-0444, or click here to make an appointment online.