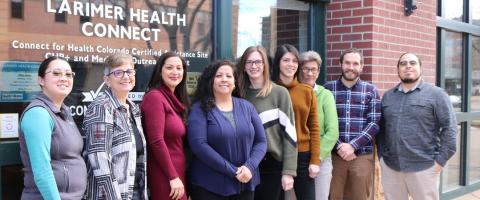 Larimer Health Connect
144 N. Mason Street, Unit 7
Fort Collins, CO 80524
970-472-0444
The Larimer Health Connect office is open! We are at our Old Town and Bristlecone locations for in-person appointments and walk-in assistance Monday through Thursday from 8am - 5pm (closed for lunch from 12-1pm daily). We offer virtual and phone appointments Monday through Friday. You can continue to schedule your appointment by calling us at 970-472-0444 or scheduling online. Please check the entrances for up to date masking requirements. If you are not feeling well, please reschedule your appointment.
¡La oficina de Larimer Health Connect está abierta! Estamos en nuestros sitios de Old Town y Bristlecone para citas en-persona y sin sita de lunes a jueves de las 8am - 5pm a diario (cerramos para el almuerzo de las 12-1pm a diario). Tenemos citas virtuales y por teléfono de lunes a viernes. Puede seguir haciendo sus citas al llamarnos al 970-472-0444 o en línea. Por favor mire el rótulo en la puerta para ver los requisitos de enmascaramiento actualizados. Si no se siente bien, por favor reprograme su cita.
Larimer Health Connect is a local effort to help individuals, families and small businesses in our community understand and participate in new health insurance coverage options, including Connect for Health Colorado. This effort is led by the Health District of Northern Larimer County, a Connect for Health Colorado Certified Assistance Site that also has many years of experience helping local residents enroll in Health First Colorado (Medicaid) and Child Health Plan Plus (CHP+). In cooperation with other local organizations, the Health District provides in-person assistance at five locations in Larimer County. Certified Health Coverage Guides with Larimer Health Connect can:
Provide fair and impartial information and services that help customers complete the application process to purchase health insurance through Connect for Health Colorado. They also educate customers on how to prioritize, filter, and sort their options to meet their unique needs.
 
Help people get a break on costs by going over the financial assistance options that are available exclusively through Connect for Health Colorado, including tax credits and cost-sharing programs. They also can determine if individuals and families qualify for health insurance coverage from Health First Colorado (Medicaid) or CHP+ and help them apply for those programs if they do.
Visit the Larimer Health Connect website for more information.
To make an appointment with a Health Coverage Guide, call 970-472-0444, or click here to make an appointment online.