Health District named Gold Bicycle Friendly Business
June 8th, 2021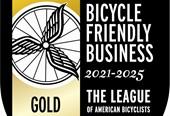 The League of American Bicyclists today recognized the Health District of Northern Larimer County with a Gold Bicycle Friendly Business (BFB) award, earning it a place alongside over 1,400 businesses across the country contributing to the movement to build a more Bicycle Friendly America.
The Health District was previously designated a Silver BFB in 2014.
The Health District joins 33 total new and renewing BFBs in the League's latest round of business awards and 1,425 total BFBs nationwide, including everything from government agencies, Fortune 500 companies, bike shops, and other employers, all united in a commitment to transform American workplaces to be more welcoming to both customers and employees who bike. The Bicycle Friendly Business award recognizes an organization's contributions in shifting up and accelerating the movement to build a Bicycle Friendly America for everyone.
Fort Collins is home to more than 60 Bicycle Friendly Businesses, the most of any in Colorado, and the city is designated a Platinum-level Bicycle Friendly Community.
"Bicycle Friendly Businesses are small businesses and large businesses, they are mom and pops and multinational, and they will be a part of our nation's recovery," said Nesper. "By offering simple solutions that enable people to easily go places by bike, employers like the Health District are demonstrating leadership towards healthier, stronger communities and improving the well-being of our colleagues, friends, and neighbors by making biking better for everyone."
As an advocate of physical activity and its healthful effects, the Health District encourages bicycling as an easy option for transportation and provides amenities such as loaner bikes and bike lockers for bicycle commuters. It has been a regular co-host of Bike to Work Day breakfast stations.
To learn more about the BFB program, or to apply, visit the League online at www.bikeleague.org/business.
About the Bicycle Friendly America Program
To learn more about building a Bicycle Friendly America, including the Bicycle Friendly Community® (BFC), Bicycle Friendly State® (BFS), Bicycle Friendly Business® (BFB), and Bicycle Friendly University® (BFU) programs, visit www.bikeleague.org/BFA.
The League of American Bicyclists leads the national movement to create a Bicycle Friendly America for everyone. With a history dating to 1880, the League is committed to engaging diverse communities and building a powerful, unified voice for change around protecting and promoting bicyclists' rights. Learn more at www.bikeleague.org.