COVID-19 vaccine questions?
June 14th, 2021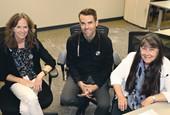 Do you have questions or concerns about the COVID-19 vaccine?
That's okay. We understand.
Health District vaccine providers are available to answer your questions. Anyone can come to a Wednesday vaccination clinic (see upcoming schedule) and chat one-on-one with a nurse or physician about the COVID-19 vaccine. No appointment required during regular clinic hours. Or call the Health District vaccine line at 970-221-7144, Monday  9 a.m. – noon, or Wednesday, 1 – 6 p.m. Leave a message other times, and we'll return your call.
We want everyone to get vaccinated with confidence so we can end COVID-19 in our community. Together we can do this!