Health District earns gold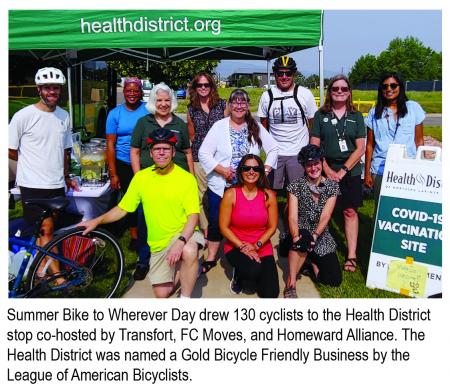 The Health District recently received a Gold Bicycle Friendly Business (BFB) award from the League of American Bicyclists. The goal of the program is to encourage a more welcoming atmosphere for bicycling employees, customers, and the community.
The Health District joins 33 new and renewing BFBs in the League's latest round of business awards and 1,458 total BFBs nationwide, including everything from government agencies, Fortune 500 companies, bike shops, and other employers. Fort Collins is home to more than 60 Bicycle Friendly Businesses, the most of any in Colorado, and the city is designated a Platinum-level Bicycle Friendly Community.
The Bicycle Friendly Business award recognizes an organization's contributions in shifting up and accelerating the movement to build a Bicycle Friendly America for everyone.
The Health District was previously designated a Silver-level BFB in 2014. Since then, the organization has made additional changes that enhance convenience and safety for bike-commuting staff and visitors, including secure bike lockers, upgraded bike racks, and exterior security lighting and cameras at the Bristlecone campus.