Survey finds steep decrease in local uninsured rate
June 23rd, 2017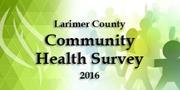 Survey results released today show that residents of Larimer County have seen dramatic gains in health insurance coverage since 2013, a period that includes the implementation of the Affordable Care Act (ACA) in 2014.
The new survey from the Health District of Northern Larimer County also finds that many residents have experienced fewer struggles with medical bills and debt collectors, put off fewer visits to mental health providers, and filled more prescriptions that previously might have gone unfilled due to cost.
The findings are part of the Community Health Survey, a large, scientifically designed study the Health District has conducted every three years since 1995. Results help the Health District and other local organizations gauge the community's health and track changes in health-care access over time. The most recent survey of 2,279 randomly selected adult residents of Larimer County took place in the fall of 2016.
In 2016, 4 percent of local working-age adults ages 18-64 reported having no health insurance, down markedly from 12 percent three years earlier. The number of people who were uninsured for long periods of time—seven months or more—also decreased significantly, from 17 percent in 2013 to 6 percent in 2016.  Those with the lowest income (138 percent or less of the federal poverty level) saw the steepest drops—6 percent were uninsured for longer than seven months in 2016, down from 47 percent three years earlier.
The survey showed improved access to a variety of health services.  The number of local residents reporting no insurance for prescriptions dropped by  half, from 14 percent to 7 percent. Among those with the lowest incomes, there was a steep decrease in the number of people who were said they were unable to fill a prescription due to cost in the previous two years (27 percent to 12 percent).
Residents whose incomes were at or just above poverty were less likely to delay getting mental health care. The number of people who put off visiting a mental health care provider due to cost over the prior two years decline significantly, from 49 percent to 19 percent.
Gains in coverage had wide-ranging impacts on people's personal and financial well-being. Those who reported having to change their way of life significantly in the past year to pay medical bills declined from 12 percent to 10 percent. The decrease impacted those living with "poverty and just above" incomes (23 percent to 10 percent), as well as middle-income adults (15 percent to 10 percent).
Those who reported having medical bills they couldn't pay right away and had to pay over time declined from 31 percent in 2013 to 28 percent in 2016. The residents impacted the most were those with lower- and mid-middle incomes who would have been eligible for financial assistance in purchasing health insurance under the ACA.
Residents least able to pay for medical care got a reprieve from debt collectors as the number of people at or just above poverty who had been sent to collections for unpaid medical bills in the preceding year decreased from 22 percent to 15 percent.
Dental care was not immune to coverage gains. The number of people reporting that they had no dental insurance decreased from 36 percent in 2013 to 28 percent in 2016.  Among residents with the lowest incomes, those who said they lacked dental insurance dropped by half, from 60 percent to 29 percent. Among all Larimer County residents, the number who put off going to a dentist because of cost in the preceding two years decreased from 39 percent to 36 percent.
In 2014, Health First Colorado, the Colorado Medicaid program, added dental coverage for adults, enabling more adults with incomes up to 138 percent of the federal poverty level to access dental care more easily.
The 2016 Community Health Survey was a random-sample survey of 2,279 adult residents of Larimer County.  A more detailed summary of recent survey findings related to coverage gains can be found at healthdistrict.org/community-health-assessment. For more information on the Community Health Survey, contact Richard Cox at the Health District at 970-224-5209, rcox@healthdistrict.org.
The Health District is a public agency that provides residents of northern Larimer County with dental, mental health, and preventive health services, in addition to connecting people to more affordable prescription and health insurance options.