James Stewart becomes new Medical Director
July 29th, 2019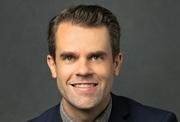 Dr. James Stewart has been named the new medical director for the Health District of Northern Larimer County. He replaces Dr. Bruce Cooper, who is retiring.
Stewart, 35,  brings to the community more than 10 years of education, experience, and leadership in public health. Most recently, he was Chief Resident in General Preventive Medicine and Public Health at the Icahn School of Medicine at Mount Sinai in New York City, where he had several responsibilities, including overseeing the resident-led Tobacco Cessation Clinic.
Stewart has an undergraduate degree in exercise science from Brigham Young University and a Doctor of Osteopathic Medicine degree from the University of New England
College of Osteopathic Medicine in Biddeford, Maine.
In June, he completed his master's of public health degree in health promotion and disease prevention at Mount Sinai and was inducted into Delta Omega, the national public health honor society.
For four years, he was a flight surgeon/medical officer for the U.S. Army, where he earned a medal for meritorious service in 2017.
"The kind of high-impact, results-driven work the Health District is doing is exciting to me and where I feel I can make the most difference is in promoting the health of a community while leaving no one behind," Stewart says. "I am humbled and honored to work side by side with a team of collaborative, mission-driven, and service-oriented health workers and advocates."