Liane Jollon named Executive Director
May 9th, 2023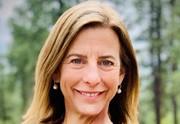 The Board of Directors for the Health District of Northern Larimer County has appointed Liane Jollon the agency's new executive director.
Jollon will join the Health District July 1.
The appointment caps a three-month national search that drew more than 60 applicants.
Since 2013, Jollon has been executive director of San Juan Basin Health, a public health department serving La Plata and Archuleta Counties in southwest Colorado. Prior to becoming executive director, she served as the agency's Health Services Division Director, as well as manager of the Family Planning Clinic and Immunization and Family Planning Program. Before her career in health care, Jollon worked with several nonprofit organizations, including serving as executive director for the Adaptive Sports Association and the Sexual Assault Services Organization, both in Durango.
Jollon holds a Bachelor of Arts degree in arts, history and sociology from Columbia University, an associate degree in nursing from Pueblo Community College in Durango, Colorado and is pursuing a Master of Arts degree in security studies from the Naval Postgraduate School in Monterey, California. In 2022, she was named a Gates Family Fellow as a Senior Executive in State and Local Government at the Harvard Kennedy School at Harvard University. She is immediate past president of the Colorado Association of Local Public Health Officials.
"The board is thrilled to have Liane Jollon become the next executive director for the Health District of Northern Larimer County. Liane is an experienced, thoughtful, strategic, and passionate leader in community health. We are excited to work with her moving forward as we pursue our organizational mission of enhanced health for all," said Molly Gutilla, President of the Health District Board of Directors.
Lorraine Haywood will serve as interim executive director for the Health District until July, after which she will resume the position of deputy director.
The Health District is a special district that provides residents of northern Larimer County with dental, mental health, and preventive health services, in addition to connecting people to more affordable health insurance and prescription options.