Book Club and More for Mortals starts June 19
May 30th, 2019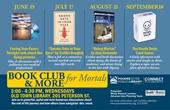 The Health District's Advance Care Planning Team, in conjunction with the Poudre River Library District, is presenting another Book Club for Mortals in the spring and fall, this time adding video and games to the book lineup. Book Club and More for Mortals offers powerful, joyful, and even humorous discussions about the end of the life journey and how others have navigated this event.
The group meets 3-4:30 p.m. on the third Wednesday of the month, June through September, at the Old Town Library, 201 Peterson St., Fort Collins.
Book Club and More for Mortals is led by Mindy Rickard of the Larimer Advance Care Planning Team.
Selections include:
"Facing Your Fears: Straight talk about the dying process," Film and discussion with a palliative care medical professional. (June 19)
"Smoke Gets in Your Eyes," by Caitlin Doughty. How a job at a crematory turned morbid curiosity into life's work. (July 17)
"Being Mortal," by Atul Gawande. A video and book discussion about dying, the limits of medicine, and about living to the last with dignity. (Aug. 21)
"The Death Deck Card Game" A lively afternoon with stories and laughs to share (Sept. 18)
Limited complimentary copies of book selections are available at Old Town Library. For more information, see www.poudrelibraries.org or call 970-221-6740.
The Larimer Advance Care Planning Team is a collaborative effort by the Health District and community partners that provides free assistance and support to adults completing their advance care plans.