Board election cancelled; 2 newcomers join returning incumbent
March 6th, 2018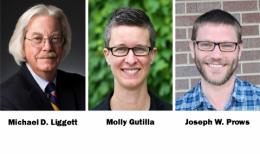 The Health District of Northern Larimer County has cancelled its May 8 board of directors election after receiving enough candidates to fill the seats up for election on the board.
Three people filed for candidacy by the state-mandated deadline of March 5. They included one incumbent running for re-election and two newcomers running for open seats.
The new and returning board members are:
Michael D. Liggett, 67, Fort Collins, an attorney and partner in the law firm Liggett, Johnson and Goodman in Fort Collins. First elected to the Health District board in 2014, he currently serves as its president. He is a graduate of Colorado State University and received his law degree from the University of Seattle.
Molly Gutilla, 39, Fort Collins, an assistant professor at the Colorado School of Public Health at Colorado State University. She earned BS and MS degrees in exercise physiology from Ohio State University, and holds a doctorate degree in public health from the University of Colorado, Denver, with a focus on epidemiology.
Joseph W. Prows, 36, Fort Collins, a family medicine physician with Associates in Family Medicine in Fort Collins. He graduated in 2009 from Tulane University School of Medicine and also holds a master's degree in public health, specializing in epidemiology.
All three are expected to be sworn in on or before the next regular board meeting on May 22.
The Health District is governed by a five-member board of directors. Members serve staggered, four-year terms and are elected at-large from the community. Elections are held every two years in even-numbered years.
The Health District is a special district that provides residents of northern Larimer County with dental, mental health, preventive health, and advance care planning services, in addition to connecting people to more affordable health insurance and prescription options.