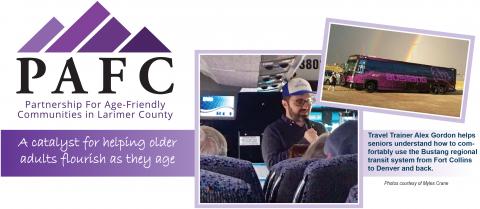 Partnership for Age-Friendly Communities in Larimer County
By Kathy Hayes
Several years ago, Jody Shadduck-McNally became a caregiver for her grandparents and, later, her parents. "If I'd known then what I know now, I would've had a lot more support," she says. "It would have made some difficult times for us a little easier."
Shadduck-McNally is a volunteer with Partnership for Age-Friendly Communities (PAFC), a grassroots nonprofit working with others to address issues focused on making Larimer County an age-friendly community.
"By 2040, the Colorado State Demography Office estimates that 25 percent of Larimer County's population will be 60 and older," says PAFC Executive Director Jim Becker. PAFC is a resource people can use to seek help now rather than waiting until they or their loved ones are in crisis. Its mission is to "bring volunteers and collaborators together to plan, design, and implement sustainable strategies to enhance quality of life for older adults in Larimer County."
For example, the recently launched program, A Little Help, connects people to seniors within their neighborhood to help with small tasks—yard work, running errands, giving caregivers a break—enabling seniors to stay in their homes and engaged with the community.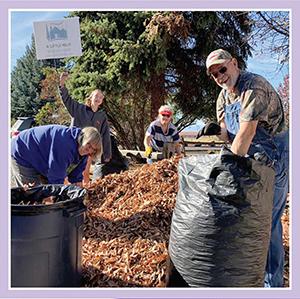 Self-directed volunteer teams are the drivers of PAFC's efforts to address critical topics in four priority areas: housing, mobility and access, health and wellness, and the culture of aging.
"One team may work to define a problem and suggest solutions, outlining issues and options," Becker explains. Then, a new team will use that information to design and pilot a solution that, ultimately, will find a long-term "home" elsewhere in the community.
"We always do our projects in collaboration with other community entities," Becker adds.
PAFC facilitates one-time events, such as a travel training done in conjunction with Transfort, Rural Alternative For Transportation (RAFT), City of Loveland Transit, and Bustang, to help older adults become familiar with transportation alternatives along the Front Range. The organization also worked with the Senior Advisory Board for the City of Fort Collins to host a Candidate Forum prior to the last election, and has helped bring interesting trainings to the community, such as the "Changing the Narrative" event that PAFC co-hosted in December.
PAFC is also partnering with Neighbor to Neighbor to implement HomeShare, a program that matches home seekers with older homeowners, and with the Larimer County Workforce and Economic Development Center to coordinate an initiative that pairs older adult workers with local employers.
"With the newly announced Lifelong Colorado initiative from the Colorado Governor's Office (thanks in part to the effort of PAFC volunteers, Colorado State University, and Colorado's other age-friendly communities), we may have new regional opportunities to help Larimer County excel as a great place for older adults," notes Becker.  
Says Shadduck-McNally, "PAFC and its partners are helping our community rethink how we design and plan. I'm excited to be a part of their efforts to make everyone aware of the many resources we have to help people age gracefully in place and have a great quality of life regardless of their age."
To learn more, volunteer, or sign up for PAFC's newsletter, go to pafclarimer.org, email info@pafclarimer.org, or call 970-310-4900.
Get help now
Senior Access Points
This website connects seniors with a variety of local services. Or get the Answers on Aging Resource Guide by calling the Larimer County Office on Aging at 970-498-7750.