Health equity behind expanded options
by Julie Estlick
When Javier González (not his real name) started having headaches and other unexplained symptoms, he was concerned. Before he knew it, the healthy 32-year-old could no longer work out several times a week and had to quit a job that required a lot of physical labor. With no health insurance and his savings drained from multiple doctors' visits and tests, González moved back in with his parents.
His eventual diagnosis: a malignant brain tumor. Surgery, radiation, and chemotherapy treatments followed, which can add up to an estimated $700,000, according to the website CostHelper.com.
Fortunately, González found his way to Larimer Health Connect, a free program of the Health District of Northern Larimer County that helps residents understand how health insurance works and review coverage options to make the best choice for them and their families. The Larimer Health Connect team offers Question and Answer sessions and special enrollment events during Open Enrollment which begins on Nov. 1.
Larimer Health Connect Certified Health Coverage Specialist Roy Ramirez determined that González qualified for Health First Colorado, Colorado's Medicaid Program (free or low-cost health care for children and adults who qualify) and helped him get enrolled. It was one less thing for the young man to worry about as he faced the battle of his life.
"It was a very stressful, life-changing time. I'd never experienced health complications and suddenly I had a serious diagnosis," González says. "I am so grateful to Roy and Larimer Health Connect. Medicaid coverage has allowed me and my parents to focus on my treatments and regaining my health."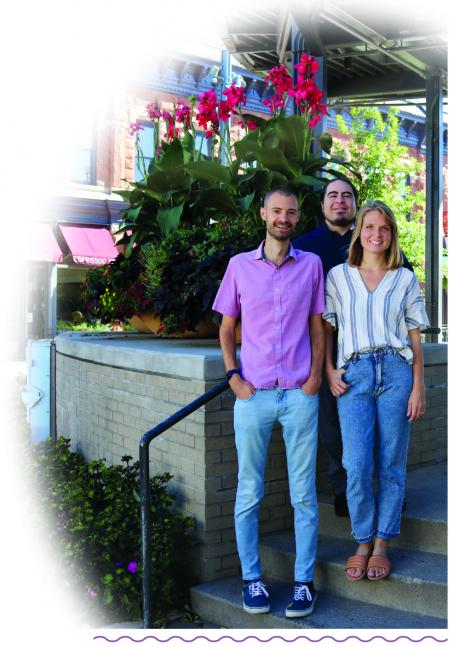 In these changing economic times, Cherie Nelson Senie and her partner Evan Nelson Senie were ready to make a bold career change and came to Larimer Health Connect to figure out their insurance options. "We wanted to leave our jobs and start a copywriting business, but what was holding us back was losing our health insurance," Nelson says. "It was scary, but Roy was so patient and made the information simple to understand. We both found coverage plans that work for us—it really validated our decision."
Ramirez and the rest of the Larimer Health Connect team are gearing up for a busy fall as Open Enrollment for 2023 kicks off on Nov. 1. Open Enrollment (OE) is the time when everyone can elect or change their health insurance plan for the next calendar year through the Connect for Health Colorado Marketplace. In Colorado, the OE period goes through Jan. 15, 2023. However, you must enroll by Tuesday, Dec. 15, 2022, in order to begin coverage on Jan. 1, 2023. After that, coverage begins on Feb. 1. Last year, Larimer Health Connect helped 931 Larimer County residents find coverage, and staff expects increased demand this year due to a new insurance shopping platform the state is rolling out. The new Colorado Connect has plans that offer more cost savings to people who haven't qualified in the past, including options for undocumented individuals.
Selecting and purchasing a plan through the marketplace can be confusing and overwhelming. Larimer Health Connect staff help clients understand their options and any financial assistance that can lower the cost of health insurance. They also assist in completing the application process for coverage through the marketplace, or enrollment in Medicaid or Child Health Plan Plus (CHP+) for those who qualify.
Expanding equitable coverage
New for 2023, people who didn't previously qualify for health plans and savings on the marketplace may be able to find options on Colorado Connect. Designed with health equity in mind, plans include high value services at no cost to the consumer, and for the first time provide coverage options for undocumented Coloradans. Coloradans without documentation who meet income qualifications can also receive financial help for certain plans.
"For the first time ever, households and individuals who are undocumented could qualify for $0 premiums," says Rosie Duran, program coordinator for Larimer Health Connect. Those who don't meet the income criteria can still purchase full-priced plans on Colorado Connect.
Colorado Connect offers standardized state plans with the same essential health benefits and cost-sharing among all insurance carriers. Plan benefits include mental health services, primary care, prenatal and postnatal care, non-preventive visits, and more.
"Standardized plans will have the same copayments, deductibles, and out-of-pocket maximum costs across all insurers so it's easier for consumers to compare plan benefits and know how much they'll pay for their most common services," Duran says. Premiums and provider networks will vary between those plans.
Peace of mind
If all this has your head spinning, never fear: "Larimer Health Connect can help people figure out what they are eligible for and how best to enroll," Duran says. In fact, if you are shopping on Colorado Connect, state leaders encourage finding assistance this first year rather than doing it yourself to help ensure a seamless process. (See breakout box.)
No matter your circumstances, the key is not to skip coverage for any family member. It is easy to underestimate just how much health care can cost on your own. For example, Connect for Health Colorado estimates that a broken leg could be up to $7,500 to fix if you don't have insurance. Having a baby can cost $10,000 without insurance.
"Health insurance can help you stay healthy by covering the costs of many health benefits and protect you from debt," she says. "If your child gets sick and needs to see a doctor or take prescription medications, it can pay part of the cost. If you're diagnosed with a chronic condition, like diabetes, insurance coverage can help protect you from high, unexpected bills."
González can certainly relate.
"You never think you'll hit your deductible every year, but with a brain tumor I would have met my out-of-pocket limit at the first cancer appointment. If I'm able to go back to work, I'll make it a priority to find a job with health insurance coverage or purchase my own for sure."
Ramirez and his team members stand by ready to help during OE, and all year long for those who've had a recent life event, like losing other coverage, moving, getting married, or having a baby.
"Right now there are so many options for Coloradans at different income levels to qualify for financial assistance, minimize medical cost liability, and choose a health plan that fits their needs and budget," Ramirez says. "Nobody plans to get sick or be in an accident, but life happens. Health insurance coverage can give you peace of mind for the unexpected."
To learn more:
Health Insurance & You
Zoom question and answer sessions for Connect for Health Colorado and Colorado Connect:
•    Tues., Oct. 25 – 5:30-6:30 p.m.
•    Wed., Oct. 26 – 5:30-6:30 p.m. (Spanish)
•    Thurs., Oct. 27 – 5:30-6:30 p.m.
See larimerhealthconnect.org to register and receive the Zoom link.
Find help:
Larimer Health Connect
Schedule an appointment by calling 970-472-0444 or go to larimerhealthconnect.org.
In-person, Zoom, and phone appointments are available.
Enrollment Events
In-person; walk-in, no appointment necessary.
Berthoud
The Berthoud Life Center, 375 Meadowlark Ave.
Tues., Nov. 29, 9 a.m.-12 p.m.
Estes Park
Estes Valley Library, 335 E. Elkhorn Dr.
Wed., Dec. 7, 10 a.m.-4 p.m.
Fort Collins
Larimer Health Connect office, 144 N. Mason St., Unit 7
Sat. Nov. 5, 12, 19; Dec. 3, 10, 17; and Jan. 7 – 9 a.m.-2 p.m.
Thurs., Dec. 15 – 8 a.m.-8 p.m. (deadline for coverage to start Jan. 1, 2023)
Sun., Jan. 15 – 9 a.m.-4 p.m (last day of Open Enrollment 2023)
Starting Nov. 1: Extended hours Tues. and Thurs. 8 a.m.-8 p.m. (holidays excluded)
Call 970-472-0444 to confirm details including what information/documents to bring.
Connect for Health Colorado
Information on Open Enrollment, savings calculator, and where to find assistance.
Connectforhealthco.com or 1-855-752-6749