Larimer Health Connect can help with insurance open enrollment
November 1st, 2019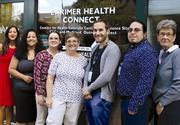 The open enrollment period for to sign up for health insurance through the state's Affordable Care Marketplace, Connect for Health Colorado, begins Nov. 1, and runs through Jan. 15, 2020.
The Connect for Health Colorado Marketplace is the only place to apply for financial help to reduce monthly health insurance costs.
For those who are eligible, plans from the Connect for Health Colorado Marketplace offer financial assistance that reduces the cost of premiums, copays, and coinsurance. For example, financial assistance is available for an individual making up to $49,960 per year, or a family of four making up to $100,300.
Larimer Health Connect, a service of the Health District of Northern Larimer County, can make open enrollment easier by offering free and unbiased in-person assistance to help Larimer County residents apply for financial assistance, learn about health insurance options, and enroll in the plan of their choice for 2020. It has extended hours and walk-in (no appointment required) enrollment events on Saturdays during open enrollment.
Larimer Health Connect also can help qualifying people sign up for Health First Colorado, (Colorado's Medicaid Program) or Child Health Plan Plus, both of which allow year-round enrollment.
Larimer Health Connect is open 8 a.m. – 5 p.m., M-F, at 144 N. Mason St., Unit 7, Fort Collins. Walk-in service is available Saturdays, 9 a.m. – 2 p.m. through Jan. 11. Appointments are available during regular weekday hours at offices in north Fort Collins and Loveland. More information and appointments are available at 970-472-0444, or larimerhealthconnect.org.
The Health District is a public agency that provides residents of northern Larimer County with dental, mental health, preventive health, and advance care planning services, in addition to connecting people to more affordable health insurance and prescription options.