Community Discussion Group Report details local healthcare challenges
September 21st, 2020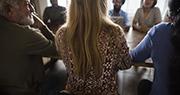 Concerns about access to health care, the cost of health care and prescriptions, mental health and substance use issues, consumer confusion, quality of care, housing, challenges of the aging population, and diversity are key themes raised in the recently released Community Discussion Group Report, which is part of the Health District's 2020 Triennial Review of Community Health.
The report summarizes conversations from 11 discussion groups held in the fall of 2019 with 158 participants who represented a wide variety of perspectives including general community members of varying incomes and housing statuses, diverse ethnicities and ages, business and community leaders, healthcare providers, mental health providers, health and human services and other nonprofit organizations. Suggested solutions for future action and advocacy are also included. Read the full Community Discussion Group Report here.
There's much more data coming soon from the latest triennial review, including the Community Health Survey results, so be sure to check back here and follow the Health District's social media channels this fall.