Make the difference in defeating Delta
COVID-19 variant hits residents, hospitals hard
by Richard Cox
At a time when many Larimer County residents thought they'd be celebrating a victory over COVID-19, the community is again threatened with rising rates of illness, hospitalization, and death—not to mention a health-care system nearing exhaustion. The difference this year is Delta, and Delta is different.
The Delta variant is the highly contagious version of the COVID-19 virus that began sweeping through Larimer County in late July, sending COVID-19 cases skyward and filling hospital intensive care units (ICUs) to beyond capacity.
The sooner we acknowledge and adjust to that difference, the sooner we can get back to pre-pandemic life and take the strain off of our overburdened hospitals and health-care workers.
It's also vitally important that we knock this virus down now as we head into the colder season when flu and other respiratory illnesses will put additional strain on local medical resources.
How is Delta different?
The Delta variant is roughly 2-3 times as contagious as the original COVID-19 virus. Although it doesn't appear to cause more serious illness than the original virus, Delta is still spreading far and wide, and fast. It's hitting young and old, but mostly it is making the
unvaccinated sick.
Vaccines protect you AND others!
According to the Centers for Disease Control and Prevention, an unvaccinated person is five times more likely to be infected, and more than 10 times more likely to be hospitalized or die from COVID-19. And having more people vaccinated helps lower the chance of yet another variant emerging, which risks everyone's life.
Delta has led to a spike in hospitalizations and helped push ICUs past their normal capacity for weeks on end. More than two dozen county residents have died from COVID-19 since the beginning of August. Most of those hospitalized or killed by COVID-19 in Larimer County have one thing in common: they are unvaccinated. Vaccines drastically reduce the chances of getting severe disease, being hospitalized, or dying from COVID-19. The COVID-19 vaccines are safe, effective, free, and—more than ever—easy to find.
Keep that mask
Vaccinated or not, you should still wear a mask indoors (when with people outside your household) or in crowded outdoor spaces. And you should consider switching to a surgical or KN95 mask. Why? Because although vaccines do a very good job of keeping people out of the hospital, a small percentage of vaccinated people will still get infected with the virus. They are not likely to get seriously ill, but they can still spread the virus to others. They may spread it to a child, who then spreads it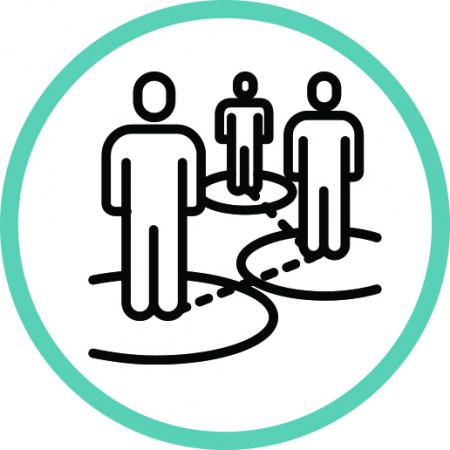 to others. Or they might spread it to an unvaccinated adult, who winds up in the hospital. Spread regularly happens by people who have no idea they are infected. Masks have been shown to help stop that unintentional spread that keeps the virus cycling through the community.
Meet safely or move it outside
Right now, you should postpone indoor gatherings if you can. If you can't, require others in your party to be vaccinated, minimize the number of households, practice social distancing, or move activities outside.
Watch for symptoms and take appropriate action
You should still monitor for symptoms of COVID-19, even if you are vaccinated. Get tested if you have
symptoms or have been exposed, and stay home.
The Delta variant has been a challenge for the community. But by getting vaccinated and making small changes in behavior, local residents can make a difference in defeating it.