Longtime executive director Plock retiring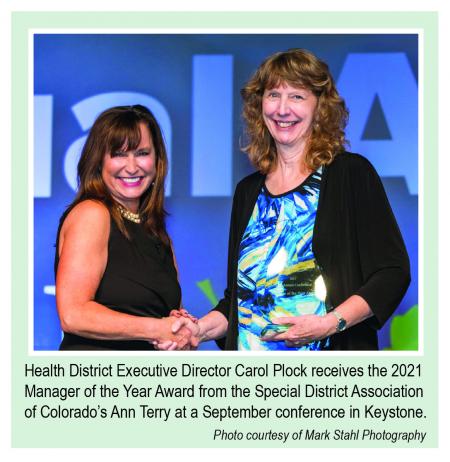 Carol Plock has announced that she will step down in early 2022 as executive director of the Health District of Northern Larimer County, a position she has held for 27 years.
Plock, 65, was hired by the Health District's board of directors in 1994, becoming the special district's first executive director after it ended its management of Poudre Valley Hospital and embarked on a new mission to improve community health in northern Larimer County.
Since then, the Health District has grown from a staff of two to an organization employing more than 125 people that provides dental, mental health, and preventive health-care services, in addition to leading collaborative community health planning activities, and helping local residents access affordable health insurance.
During Plock's tenure, the Health District has won awards and served as a model for other communities seeking to fill critical unmet health-care needs based on regular assessment of local service gaps. Plock oversaw development of programs providing critical services, including Larimer Health Connect and Mental Health and Substance Use Connections.
She also guided the Health District's response to local public health emergencies, including the COVID-19 pandemic, during which the agency worked with community partners to provide isolation, recovery, and quarantine services to the area's unhoused population.
Management accolades
In a career-capping award, Plock was named the 2021 Manager of the Year at the Special District Association of Colorado (SDA) annual conference in Keystone on September 14. The SDA represents special districts across the state that provide many basic services including fire and rescue, water, sanitation, public health, parks and recreation, hospitals, libraries, and cemeteries.
During her long tenure, Plock also received a Health Care Champion Award from the Colorado Coalition for the Medically Underserved, and she and the Health District were named the 2010 recipient of the Joseph Jabaily Public Health Hero Award by the Larimer County Board of Health.
"Back in 1994, I could never have imagined that I would have the exceptional life opportunity to work with such amazing individuals, to make such a tremendous difference together in the lives of so many real people with very real needs," Plock says.
The Health District's board of directors will begin a search for Plock's replacement this fall.