Insure your health: Don't go uncovered
Affordable health insurance is within reach
by Julie Estlick
Rosie Duran thought she'd pretty much seen it all in over 15 years of helping people in Larimer County find affordable health insurance or enroll in Medicaid coverage. Then the COVID-19 pandemic hit and suddenly families were facing unexpected challenges in a topsy-turvy world.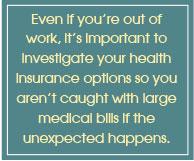 Juggling remote schooling and jobs, shutdowns, layoffs, fears about catching and spreading disease—it's enough to keep anyone up at night. Making sure you have health insurance might have gotten pushed down the list, but as Open Enrollment comes to a close on January 15, Duran argues it's one thing that you can control and will help bring some peace of mind in these difficult times.
"COVID-19 has been hard for us all, but it's never been more important to have good health insurance coverage in case you or a family member gets sick, or has an accident," says Duran, team supervisor for Larimer Health Connect (LHC), a project of the Health District of Northern Larimer County that provides free help in choosing the right plan that meets each family's health needs and budget, including potential financial assistance.
Since March, LHC team members—who are all state-certified Health Coverage Guides—have met with clients over video and phone, with some in-person appointments for those without access to a computer. They have stayed plenty busy during Open Enrollment, the period when you can purchase a private insurance plan on Connect for Health Colorado, the state's health insurance marketplace. You can still sign up outside of the open enrollment period if you have certain life change events such as losing health insurance coverage from a job, moving, getting married, or having a baby that may qualify you for your own Special Enrollment Period (SEP), or if you qualify for Health First Colorado (Medicaid) and Child Health Plan Plus (CHP+), which have no deadlines.
Stay covered
Even if you're out of work, it's important to investigate your health insurance options so you aren't caught with large medical bills if the unexpected happens. A survey by the state's Department of Labor and the Department of Health Care Policy & Financing found that about 20 percent of people receiving unemployment benefits had no health insurance, or anticipated losing their insurance, and of those uninsured individuals a whopping 46 percent planned to go without coverage.
During these stressful times, many health insurance plans include coverage for COVID-19 testing and treatment, mental health appointments, and medications. A trip to urgent care or the emergency room for a family member is cheaper if you have insurance. Even on a tight budget, insurance coverage may not cost as much as you think.
"A lot of people are surprised that they qualify for financial help, making it affordable for them to purchase insurance through the marketplace," Duran says.
There are different types and levels of plans available from several insurance companies, she notes. For instance, Cigna returned to Larimer County as an insurance provider in the state marketplace for 2021 with lower cost plan options, joining providers Anthem Blue Cross Blue Shield, Kaiser Permanente, and Friday Health Plans of Colorado.
Whether you need assistance with the marketplace website, want help comparing plans, or just don't understand what some of the insurance terms mean, Larimer Health Connect is a great resource. The LHC team saw at least 100 additional clients in 2020, and Duran anticipates they will meet their goal of 1,200 appointments during Open Enrollment.
Will I lose my Medicaid?
Quarantines and shutdowns due to the spread of COVID-19 have created chaos in our daily lives. The government has provided some help from the uncertainty and loss, including making sure health insurance is available for Americans living on little to no income during the global health crisis.
Nearly 300,000 Coloradans are "locked-in" to their government Medicaid plan under the federal Public Health Emergency (PHE) order for COVID-19 issued by U.S. Secretary of Health and Human Services Alex Azar at the start of the pandemic, which means that once a person is enrolled they cannot be dropped off, even if their income goes above the guidelines, unless they move out of state or withdraw from the program. Around 17,000 Larimer County residents are covered under the order, which is set to expire on January 20—although state health officials expect to do a thorough review before anyone's coverage is terminated. Secretary Azar could also extend the order, which he's already done three times.
"Although we have approximately 290,000 Coloradans currently locked-in, we don't anticipate that all stand to lose coverage," says Marivel Klueckman, eligibility director for the Colorado Department of Health Care Policy & Financing. "Due to the impact of COVID on the economy, we anticipate that at least half will meet the guidelines and be eligible for Medicaid again."
Reassessment of a member's enrollment could take up to 90 days, she estimates. After that, if you no longer qualify you would receive a "notice of action" with the exact date of termination—which would be mailed to your home address unless you opted for email or text messages from Health First Colorado. Klueckman stresses that it's important to keep your Colorado PEAK account updated with current contact information, and to report any changes in income now versus waiting until the emergency ends.
Remember, you can be a working adult and still qualify for Medicaid if you make $17,000 a year or less, or about $1,400 per month for an individual; $34,800 or $2,900 for a family of four. There is also a buy-in program for people above the regular income guidelines that allows those working at some capacity and living with chronic health conditions or a disability to purchase coverage, even if they have employer-provided health insurance. Medicaid can be used as a secondary insurance for those who qualify.
Anyone who is dropped from Medicaid coverage following the PHE would qualify for a 60-day Special Enrollment Period to purchase a plan on the state marketplace and may find they are eligible for tax subsidies and lower costs, Klueckman adds.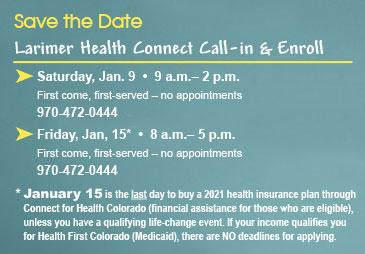 And if you have a job but your employer doesn't offer insurance, Duran advises purchasing a plan during Open Enrollment that works with your budget, because if you are laid off and didn't already have health coverage you won't qualify for the SEP and will have to wait until the fall to shop on the marketplace for 2022 coverage (unless you qualify for Medicaid/CHP+, which are open year-round for enrollment).
Let's be honest: 2020 was a wild year for everyone. If you've put off choosing a health insurance plan, or reviewing last year's plan to make sure it is still the best option, Duran and her team are ready to help.
With just a few days left until the state's January 15 deadline for Open Enrollment, Larimer Health Connect is hosting two call-in events: Saturday, January 9, and Friday, January 15. No appointments are necessary for those days, just call 970-472-0444 (see Save the Date box for times).
Duran sums it up best: "If you have any questions about health insurance or need help understanding all the options available, please call us. Don't go into 2021 uninsured!"