Energy-boosting breakfasts
Simple, whole foods get you through a busy morning
by Betsy Lynch
Even if you don't wake up craving calories, your body needs energy to start the day. But not just any fuel will do, says Shelby Cox, registered dietitian nutritionist and recent director of Colorado State University's Kendall Reagan Nutrition Center.
"If there's one thing we need for breakfast, it's balance," she says. "That's so critical."
Your morning medley should satisfy hunger and provide staying power by including whole foods that are rich in vitamins, minerals, complex carbohydrates, high quality protein, healthy fats, and fiber. Breakfast can be as traditional or as modern as you care to make it—quick oats or a quinoa porridge—there are infinite choices.   
Oats continue to be a breakfast staple because they're affordable, versatile, and nutritious. They earn high marks for soluble fiber, which slows digestion, stabilizes blood sugar, and promotes heart health. But in fact, many whole grain breads and cereals, fresh fruits and berries, and even veggies added to an omelet, smoothie, or tofu scramble, provide the energy, fiber, and micronutrients we need to keep going all morning long, Cox notes.
Eggs, avocado, Greek yogurt, skyr (an Icelandic yogurt), nuts, and seeds are also popular breakfast items because they provide protein and healthy fats which also stabilize blood sugar, keep us energized, and help us feel full longer.
If you can't imagine starting your day without a cup of coffee, there's no harm in that. Just know that caffeine provides "a false sense of energy," according to Cox. Your brain and body still need actual nutrients for peak performance. And since we're only human, if we acquire a pastry to go with our favorite breakfast beverage, she suggests circumventing a sugar crash by balancing the carbs: eat a protein (think eggs, cheese, nuts, plain yogurt) along with the Danish.
It's also easier to resist temptation when we're not feeling famished. A power bar or packaged cereal is likely a better choice than forgoing food altogether, suggests Cox, especially when we choose products that use whole grains, dried fruits, nuts, seeds, and other ingredients—without added sugar. You can also prepare nutritious, ready-to-eat breakfast items yourself. The Kendall Reagan Nutrition Center offers a list of ideas at chhs.colostate.edu/krnc/recipes/breakfast.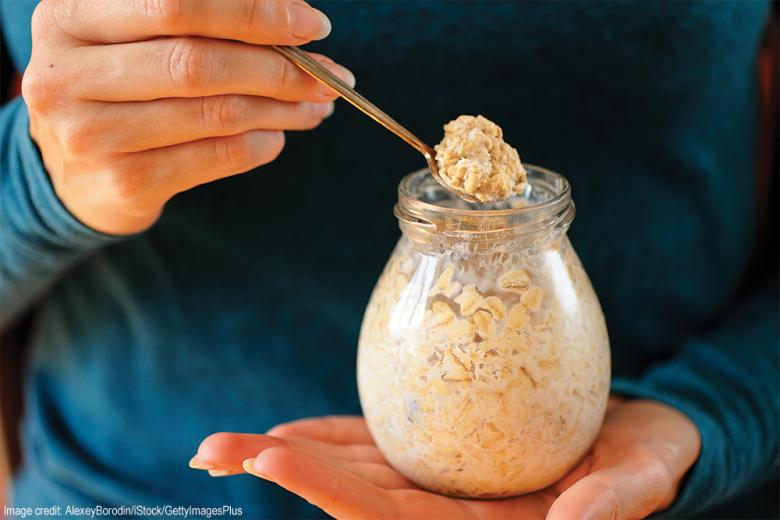 Overnight Oats
1/2 Cup rolled old-fashioned oats
1/2 Cup milk of choice
Optional:
1/4 Cup yogurt of choice
1/2 Tablespoon chia seeds
1 teaspoon sweetener (honey or maple syrup)
1/4 teaspoon vanilla extract
Directions:
Place oats, milk, and optional yogurt, chia seeds, sweetener, and vanilla extract into a mason jar or food storage container with a lid. Shake until all ingredients are combined. Refrigerate for at least 4 hours, or overnight. Remove lid and serve.
Toppings can be mixed in before refrigeration or added immediately before serving. May be enjoyed cold or heated within two days with fruit mix-ins, or up to five days without.
For more topping suggestions and nutrition information:
chhs.source.colostate.edu/kendall-reagan-nutrition-center-recipe-of-the-month-customizable-overnight-oats