What's in your sippy cup?
New guidelines focus on water, milk
By Julie Estlick
It's the moment many parents dread. You're at a restaurant and the server turns to your cherub-faced toddler and asks what she wants to drink. Excited shouts of "I want JUICE!" or "Can I pleeeease get Sprite/lemonade/root beer?!" ring out before you've even seen a menu.
In that moment, you want to make a healthy choice (at least most of the time). Children are responding to the constant barrage of advertisements for fruit juice and other "kid-friendly" beverages in fun colors and endless flavor combinations. Self-serve soda fountains are now a fixture at all but the fanciest of eateries. Then there's the explosion of plant-based "milks" marketed as healthy, flavorful (often sweetened), and easy to digest. With so many options, what's a parent to do?
Keep it simple. Stick with water or good old-fashioned cow's milk for kids up to age 5. (Babies should be limited to breast milk and formula.) That's the gist of new guidelines created by a panel of experts from the Academy of Nutrition and Dietetics, the American Academy of Pediatric Dentistry, the American Academy of Pediatrics, and the American Heart Association.
The group reviewed research that found almost half of 2-to-5-year-old children consume sugary drinks every day. All that extra sugar and calories can increase a child's risk for type 2 diabetes, cavities, and weight issues that can have serious long-term health impacts.
Last year, 13.9 percent of 2- to-5-year-olds nationwide were considered obese with the numbers increasing with each age group to over 20 percent among 12- to-19-year-olds, according to the Centers for Disease Control and Prevention. Colorado has mirrored these national trends.
The new guidelines, rolled out as part of the Healthy Drinks, Healthy Kids campaign, addresses the confusion people have about what is appropriate for children to drink, and when it's OK to introduce different liquids. (See age-specific chart below.)
"We know that what kids drink early in life is just as important for their healthy growth and development as what they eat," says Jill Kilgore, registered dietitian and nutrition supervisor for the Larimer County Women, Infant, and Children (WIC) program. Women who are pregnant, postpartum, or breastfeeding, and children younger than age 5, who meet certain income guidelines, can qualify for WIC. The WIC program provides healthy food, including fresh fruits and vegetables and milk, as well as nutrition education, breastfeeding support, and referrals to care beyond WIC.
Pasteurized milk and water have huge health benefits for growing bodies. One cup of plain whole milk has over 7 grams of protein and is chock full of calcium, vitamin D, and other vitamins that growing bodies need, as well as 8 grams of fat, which is key to brain development in toddlers. Low-fat and skim milk contain less fat but are still high in protein, calcium, and nutrients. Getting enough water is also essential from the very earliest ages. A toddler weighing 30 pounds or less requires 32 to 40 ounces of water per day to stay properly hydrated, and some may come from milk and juice.
The recommendations stress avoiding flavored milks, toddler formulas, and beverages containing caffeine, added sugar or sugar substitutes, and plant-based "milks," while limiting consumption of 100 percent juice to a few ounces a day.
The scoop on milk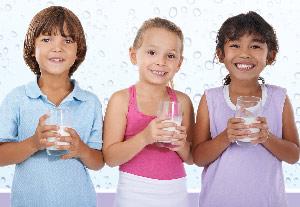 While evidence is growing that whole milk (3.5 percent milk fat) may be better overall than 1 percent or skim (non-fat) milk, many nutrition experts still recommend whole milk be given only between 1 and 2 years of age to provide the fat needed for proper brain development.
Kilgore explains, "After 24 months, we work with families to switch from whole milk to 1 percent or skim milk because we get the fat in other parts of our diet like yogurt and cheese, and this minimizes the risk of weight gain."
The concern with plant-based "milks" made from things like almond, rice, and coconut is that they aren't nutritionally equivalent to cow's milk, with the exception of soy. Also, plant seeds contain phytic acid that weakens absorption of iron, zinc, and calcium—vitamins a child's growing body needs. For those who are allergic to cow's milk, fortified soy milk is recommended as well as working with a registered dietitian nutritionist that specializes in children. (Fortified soy milk has vitamin D and calcium, making it the most similar to cow's milk.)
Lactose-free milk is an option if your little one suffers from digestive issues after consuming milk but doesn't have a dairy allergy. It has the same amount of protein as regular milk and plenty of calcium and vitamins.
Families that follow a vegan or vegetarian diet for health, environmental, or religious reasons are encouraged to examine the child's overall diet to ensure they are getting the nutrients that would otherwise be consumed through cow's milk. And if plant-based beverages are a part of their diet, stick to unsweetened varieties, the panel recommends.
Changing course
Even if your child is used to having strawberry milk with lunch, or getting soda pop as a treat, it's not too late to reverse course. Cut back gradually on sugar-sweetened drinks rather than stopping all at once, Kilgore advises. And choose water or milk for yourself and other family members so little kids don't feel like they are missing out. "It's challenging, but parents and caregivers can change through exposure and repetition and modeling that behavior."
One way to make water less boring is to jazz it up with fruits and vegetables. UCHealth's Healthy Kids, Healthy Start program teaches kindergarteners how to make "spa water" as part of a lesson on how different types of drinks can affect their body. The 5-week curriculum also covers healthy food choices, getting enough exercise and sleep, and limiting screen time in line with state education standards.
"We talk about how when your body gets too much sugar it can feel like being on a roller coaster, or it can make you grouchy, or even a little sick," says Katie Castillo, community health educator for UCHealth. Water, on the other hand, "is good for us because all living things need water. Drinking water throughout the day helps us function by keeping us hydrated."
As an experiment, Castillo and fellow educators added frozen berries and lemon slices to water—like you get at a health spa—and served it to students. "The water was colored like a rainbow which was really fun, and the kids gave the flavors a thumbs-up."
Students are taking the lessons to heart. "We hear from parents that their kids start asking more questions like 'is this a healthy choice for my body?' Or they will request different things to eat and drink. Children are being their own advocates which is so encouraging."
|   | Best drinks for 0- to 5-year-olds* |
| --- | --- |
| Under 6 months of age | Give only breast milk or formula. |
| Babies 6 to 12 months | Give breast milk or formula, and offer sips of water at mealtime after beginning solid foods. Avoid juice. |
| At 12 to 24 months | Give whole milk and water. A small volume of 100 percent fruit juice with no sugar added is OK. |
| At 2 to 5 years | "milk and water are the go-to beverages," stressing milk that is low-fat (1 percent) or skim (fat-free). |
| When adding juice | Between 1 and 3 years old, OK to serve up to 4 ounces of 100 percent fruit juice (no sugar added) per day in a cup during a meal. At 4 to 5 years old, OK to serve up to three-quarters of a cup of 100 percent juice (no sugar added) per day at mealtime. Never serve juice in a bottle. |
|   |  *Recommendations from Healthy Drinks, Healthy Kids campaign developed by a panel of experts from the Academy of Nutrition and Dietetics, the American Academy of Pediatric Dentistry, the American Academy of Pediatrics, and the American Heart Association. healthydrinkshealthykids.org |