Health District modifying services due to COVID-19
March 17th, 2020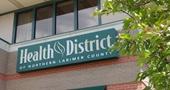 To protect the health of staff, clients, and community members, the Health District is temporarily changing how it operates. Beginning Wednesday, March 18, the majority of Health District staff will begin working from home until further notice. Certain essential services will continue to be offered with some modifications:
Family Dental Clinic
The clinic will only see patients with dental emergencies (dental pain, swelling, or bleeding) who do not have fever or acute respiratory symptoms. Clinic hours will be 8 a.m. to 4 p.m., M-F.  Patients should call before coming to the clinic: 970-416-5331.
The following services will move to mostly phone-based consultation and assistance. Some hours and details still to be determined.
Connections - Adult
Child, Adolescent, and Young Adult Connections (CAYAC)
These services assist individuals and families in understanding and connecting to mental health and substance use services. Available by phone 9 a.m. - 5 p.m., M-F. 970-221-5551 (adult services); 970-221-3308 (CAYAC)
Larimer Health Connect
Larimer Health Connect is a free service that helps people find the best options for health insurance to meet their family's health needs and budget. Assistance by phone. In-person appointments available for those without access to a computer or internet. 970-472-0444
Prescription Assistance
Prescription Assistance helps people with limited incomes and no prescription insurance find ways to get their medications at lower cost or for free. 8 a.m. - 5 p.m., M-F, beginning Monday, March 23. 970-416-6519.
Quit Tobacco Program
The Quit Tobacco Program helps people quit tobacco use through counseling and free nicotine replacement therapy. Counseling to be offered by phone, with nicotine replacement provided by mail. 970-224-5209
Advance Care Planning
Advance Care Planning assists individuals in learning about and completing advance care directives. 970-482-1909.
Health District offices at 120 Bristlecone Drive in Fort Collins will remain closed until further notice.
The Health District appreciates the community's patience and understanding during this time.