Free service helps people monitor, control blood pressure
February 10th, 2020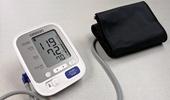 The Health District is offering a new service to help local residents take control of their health and improve their blood pressure.
The free service gives individuals a chance to work one-on-one with a registered nurse to learn the basics of blood pressure and how to correctly use a blood pressure cuff to measure and record blood pressure at home. Nurses talk with participants about ways high blood pressure can be improved by medications, diet, exercise, stress reduction, and other lifestyle factors, as well as how to prepare for an effective discussion with a health-care provider about their concerns and treatment options.
Participants can take home loaner blood-pressure monitoring devices for 2-3 weeks to practice self-monitoring or help them choose a device to purchase. If they are already monitoring their blood pressure at home, Health District nurses will compare those results with manual readings taken in the office to ensure people are getting accurate numbers.
High blood pressure, also known as hypertension, is a common, dangerous, and controllable condition. Nearly five out of 10 American adults have high blood pressure, and of those five with the condition, only about half have it under control, according to the American Heart Association.
Left untreated, hypertension can lead to heart attack, stroke, heart failure, kidney disease, and even dementia—but these are often preventable when safe blood pressure levels are achieved and maintained.
"You can't feel your blood pressure; you have to check it to know what it is and then understand what to do if it's high," explained Cheri Nichols, clinical nurse manager for the Health District's Heart Health Promotion program.
Only getting your blood pressure checked during visits to the doctor's office isn't enough, Nichols said, since many things affect blood pressure, and it is normal for it to change throughout the day. It is valuable to get a sampling of blood pressure readings that shows what it is over time and under various circumstances and then share those readings with your provider.
"Getting hypertension under control has a wide-spread positive impact on your health because high blood pressure affects your entire body," Nichols said.
People interested in participating in the blood pressure monitoring program can call 970-224-5209.