Health insurance open enrollment ends Jan. 15 in Colorado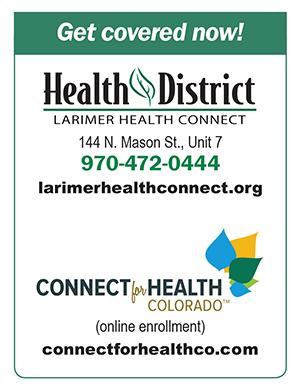 There's still time to enroll in a health plan that offers financial assistance if you qualify, but you'd better hurry.
Although in many parts of the country open enrollment ended last month, Colorado residents actually have until Jan. 15 to sign up for an insurance plan through the Connect for Health Colorado Marketplace.
People can enroll online, find a local broker, or make an appointment with a certified health coverage specialist at Larimer Health Connect.
The Health District's Larimer Health Connect program offers free and unbiased in-person help for local residents to apply for financial assistance, learn about health insurance options, and enroll in the plan of their choice for 2019. In addition to its regular schedule, Larimer Health Connect will have a special walk-in enrollment event at its Old Town Fort Collins office on Saturday, Jan. 12, and extended hours on the 15th.
More than 130,000 Coloradans got help paying for health insurance in 2018. Renewing customers who qualified for financial help have seen their net premium cost for 2019 plans decrease an average of 24 percent over the prior year.
Many people have been surprised to find out that they qualify for financial assistance, making health insurance even more affordable than ever. For example, financial assistance is available for an individual making up to $48,560 per year, or a family of four making up to $100,400.
People who enrolled last year and are happy with their plan should still see what's available for 2019. Plans change every year, and you want to make sure you are getting the best plan at the best price for your health and financial needs.
Note:  Health First Colorado (Colorado's Medicaid Program) and Child Health Plan Plus offer enrollment all year long. And people whose life circumstances change drastically during the year—for example a new job, new child, divorce, or new place of residence—may qualify for a special enrollment period that allows them to sign up for new coverage or change their existing plan. The Larimer Health Connect team is available all year to help with any of these situations.
For everyone else, Jan. 15 is the last opportunity to sign up for a health plan until fall 2019, when the next enrollment period begins.
Get covered now!