Compass celebrates 20 years of showing the way to better health
From the Y2K "Bug" to Hepatitis C testing, nutrition columns to telehealth, the Health District's Compass newsletter has delivered reliable, timely health and wellness stories to residents of northern Larimer County for the past 20 years.
Readers were introduced to the 8-page quarterly newsletter in February 1999, with articles on "The Joy of Soy" foods, how to select a mental health therapist, and taking stock of your medicine cabinet. A 4-page annual report on the Health District's programs and funding partners is also included in every summer issue to ensure that the community is informed about how their tax dollars are spent.
Through the years, Compass has earned several honors for news and feature writing and graphic design, including national and state awards in last year's National Federation of Press Women Communications Contest for the news stories "The Healing Side of Technology" and "Piecing Together the Puzzle of Youth Mental Illness," featuring the Health District's Child, Adolescent, and Young Adult Connections program. Compass also took home top honors for overall design in the state competition and received an honorable mention for graphic design at the national level.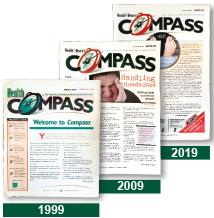 Compass is sent by mail to every residence in the Health District boundaries, which encompass the northern two-thirds of Larimer County and include the cities of Fort Collins, Laporte, Timnath, Wellington, Livermore, and Red Feather Lakes. A digital version of Compass, including back issues, is available at healthdistrict.org/resources/compass. One indication of the region's tremendous growth over the past two decades is that early issues of Compass were delivered to 75,000 homes, and over 91,000 homes receive it now.
As the area grows and health care evolves, Compass will continue to point residents to local health-care resources and information.