2020 COVID-19 Supplemental Survey
In July and August of 2020, the Health District of Northern Larimer County conducted a follow-up survey of households that previously participated in the 2019 Community Health Survey. Of the 2,463 households invited to participate in the follow-up, 1,463 total unduplicated responses were received. Of those, 1,239 were identified as being from the same respondent as the previous survey, allowing for direct comparisons. This sample was weighted to be representative for the adult population of Larimer County.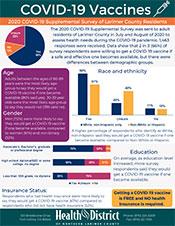 See results from the 2019 Community Health Survey.
We welcome questions and comments. Please contact the Research & Evaluation team for more information about the Community Health Assessment.
Email: survey@healthdistrict.org
Phone: 970-224-5209