The Board of Directors Election is May 5, and you are strongly encouraged to vote by mail. If you haven't received a ballot yet, you must request one by April 28.
Voter information | Voting by mail  | Candidate profiles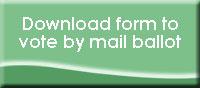 The Health District is governed by a five-member board of directors whose members serve staggered terms. Members are elected at-large from the community. Elections are held every two years. Terms are usually four years. However, for the 2020 and 2022 elections, members will be elected to three-year terms as the State of Colorado transitions to an odd-year election calendar for special districts. Another election will be held in 2023, and board elections will occur in odd-numbered years from that point forward. Terms for members elected in 2023 and all subsequent election will again be four years. Read more about the board of directors. Any eligible elector in the Health District may run for the board.
In 2020, two board positions will be up for election, each with a three-year term. The election will be held Tuesday, May 5.
INFORMATION FOR VOTERS
To vote for board members, a person must be an eligible elector in the district. An eligible elector is someone who is:
a U.S, citizen, aged 18 years or older;
registered to vote in Colorado; and
a resident of the district, OR someone who lives outside the district, but owns (or whose spouse owns) property within the district. See map of boundaries.
Election Day is Tuesday, May 5. The poll is open 7 a.m. - 7 p.m. that day.
The Health District Board of Directors election was scheduled as a polling-place election before the COVID-19 pandemic. At this time, by law, the Health District must still make in-person voting available. The Health District also is not permitted to cancel or postpone the election. VOTING BY MAIL IS AVAILABLE AND IS STRONGLY ENCOURAGED. See information below.
Polling places will be:
Drake Center, 802 W. Drake Rd., Fort Collins
VOTING BY MAIL
THE HEALTH DISTRICT IS ASKING EVERYONE WHO CAN TO VOTE BY MAIL.
Because Special District election regulations are different than other elections, those who have not previously requested to be on the Health District's permanent absentee voter list will not automatically receive a ballot in the mail, even if they normally vote by mail in all other local elections.
However, anyone who voted by mail in a previous Health District Board of Directors election, AND requested to be on the permanent absentee voter list, will have received an absentee ballot by now.
If you have not received an absentee ballot yet, you must request one using the Application for Absentee Ballot
Applications are available from the following sources:
Request an application from Kerri Fagan, by mail (at Health District, 120 Bristlecone Dr, Fort Collins, CO 80524, email, or by phone at 970-224-5209.
Clip and save the application printed in the spring issue of the Health District Compass newsletter that will be mailed to district residents in mid April.
Sign and return the application to the Health District by Tuesday, April 28. If you are not able to scan the signed document, you may sign the document by just typing your name on the signature line.
Return the application:
By mail to Chris Sheafor, Health District, 120 Bristlecone Dr., Fort Collins, CO 80524;
By fax at 970-221-7165; or
By email, as a scanned attachment or a photo of the completed application to kfagan@healthdistrict.org
We must receive your completed Application for Absentee Ballot by Tuesday, April 28.
Return your completed absentee ballot by mail using the enclosed return envelope. Or drop it off in the lobby ballot box at the Family Dental Clinic, 202 Bristlecone Dr., Fort Collins, 8 a.m. - 4 p.m., M-F.
All ballots must be received at the Health District by 7 p.m. on Election Day, May 5, 2020 to be counted.